Philly Farmgirl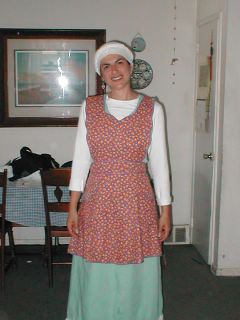 As I explore the lost art of homemaking and endeavor to become a skilled homemaker, I think of the beauty of our 'uniform', the apron. Who does not feel like an excellent homemaker when they don their apron? There is something almost magical about tyeing apron strings! I immediately have the desire to conquer the world! Well, at least my dishes.
Think of all thier uses. They help keep our clothing tidy and dry. I for one admit I am guilty of wiping my wet hands on my skirt when I cannot find a tea towel. What about wiping milk covered mouths? Again I have not been above using my skirt. ::::blushes:::
How about carrying toys or eggs from the hen house? (I miss my chickens). Here is a quote from Tasha Tudor's site:
"Aprons were indispensable to women at one time. They can be used to carry fruit, eggs, flowers or anything too cumbersome for your two hands. Often used to dust or quickly wipe a counter as the guests arrive. Tasha Tudor doesn't understand how 'modern women' get along without them."
Aprons reflect our individual personalities. Are you a smock wearer? Pratical and to the point. Are you a half apron wearer, full of ruffles but sensible at the same time. Or are you a pinafore girl, making sure all your bases are covered. Maybe you use all of these styles.
Do you have everyday aprons and fancy lacy ones for company? Remember the lovely but very impractical aprons of yesteryear. They hardly had any material to them, made mostly of guaze, lace, and frill, but oh they were the height of feminine hostessing. Someone mentioned maybe we could bring them back into 'fashion'. Think of it ladies, a homemaking revolution! All of us proudly donning our aprons, children by our sides, proudly wearing the uniform of our creative feminity. So before you get back to your busy day after our visit, grab your apron and pause before you tie it, knowing that like you, I will be happily working , wanting nothing more than to be just who I am, a homemaker.